The Trophy Shop Athlete of the Week for the week of April 22 is NATIYA JAMES* of the Eastside (Gainesville) track & field team.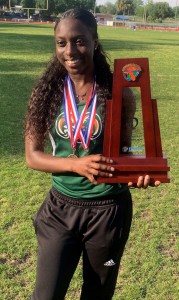 *James led the Eastside girls track and field team at the FHSAA Class 2A-Region 2 Meet by earning 1st place points in the 300m hurdles (45.34). The junior also finished 3rd in the long jump (5.58m) and third in the triple jump (11.09m) to advance to the state meet.
Nominate an Athlete of the Week each week no later than Sunday at 6 p.m. Email your nominations to mike@ThePrepZone.com
Previous 2018-19 winners:
April 15 – Niles Cromwell (Gainesville track & field)
Cromwell won the 100-meter and 200-meter dash to capture individual district titles and help lead the Gainesville boys to a second-place finish behind Vanguard (Ocala) at the District 3-5A track and field meet. The senior had a personal best time of 11.37 seconds in the 100-meter dash and a time of 23.05 in the 200 meters. Cromwell, a Rochester (NY) signee in football, also ran a leg on the Hurricanes' 4 x 100-meter relay championship team.
April 8 – Haley Barber (Santa Fe girls lacrosse)
The sophomore set the school record with 11 goals in a 19-13 win against Eastside on Tuesday, April 9. Two nights later she was at it again, netting a game-high seven goals in a 19-0 win against St. Joseph (St. Augustine) in the regular season finale. Barber, a team captain, finished the 2019 season second on the team with 50 goals.
April 1 – Ashton Ludwig (Keystone Heights softball)
The junior helped lead the Indians to a fourth-place finish in the Gold Division of the prestigious Kissimmee Klassic. Ludwig started out on fire in the tournament. She was 5-for-5 with four runs driven in as Keystone Heights defeated Riverview, 8-3, in its opening game. Ludwig followed that up by going 3-for-3 with two runs and an RBI in a 7-0 win against Frostproof. She finished the tournament with a .643 batting average in four games.
March 25 – Tamari Davis (Oak Hall girls track & field)
Davis, who transferred from Gainesville to Oak Hall this season, set a Florida Relays high school record in winning the 100-meter dash in 11.27. The time was also the best in the nation and the seventh fastest time in the world. Her time lowered the previous best of 11.29, which she tied last year.
March 18 – Deylynd Grant (Buchholz boys track & field)
Grant won two events at the Alachua County Track & Field Championships at Santa Fe High School as the Buchholz boys won the team title. The junior took first in both the 110 hurdles (14.89) and the 300 hurdles (43.14). He was the only Bobcat to win a pair of individual events for the Buchholz boys, which totaled 172 points, ahead of Oak Hall with 106 and Gainesville with 104.
March 11 – Tiffany Clark (Union County softball)
The junior had a monster week in leading the Tigers to a pair of victories. She began the week by going 3-for-6 with 6 RBI in a 27-11 win at Williston. Two nights later, Clark went 4-for-5 with a double, a triple and 9 RBI in a 22-12 win against Branford. In addition to the 15 runs that she drove in, Clark also scored four times, accounting for 19 runs in the two games.
March 4 – Lawrence Smith-Jackson (Buchholz wrestling)
Smith-Jackson placed fourth at the FHSAA Class 3A state meet, the best individual area showing at state. The senior also placed second at both regionals and the 3A-District 1 tournament, and he took first at meets such as the Westside Kiwanis in Jacksonville and the Hagerty IBT in Oviedo. He was named the Gainesville Sun's Wrestler of the Year.
February 25 – Standrea McHenry (Trenton girls basketball)
McHenry helped lead the Lady Tigers (27-3) to their first girls basketball state title since 1980. The senior just missed a triple-double in the championship game. She finished with 10 points, nine rebounds, and nine steals in the 43-31 win against Holmes County in the Class 1A Final at the RP Funding Center in Lakeland. She had a double-double in the 60-40 win against Port St. Joe in the state semifinals. McHenry scored 14 points and tied a game-high with 13 rebounds. She finished the season second in scoring at 14.3 points per game, just seven points total behind fellow senior Taniah Bowers, and she led the team in rebounds (7.5 per game).
February 18 – Alissa Humphrey (Gainesville softball)
The Jacksonville University commit was 2-0 with a complete-game no-hitter and an 8 inning 2-hitter. She combined for 34 strikeouts in 15 innings pitched. At the plate, the junior was 3-for-8 with a double and 2 RBI, including the game-winning hit (a double with runners on 2nd and 3rd) in a 3-1 extra inning win at Santa Fe (Alachua). Humphrey struck out 18 Raiders and accounted for all but six outs.
February 11 – Darrien Jones (Columbia boys basketball)
The junior helped lead the Tigers to their first district title in 19 years by averaging 12 points, seven assists, 1.5 steals, and he was 10-of-12 from the free throw line in two games. In the 7A-District 4 semifinals, Jones scored a team-high 13 points, including seven in the final quarter, in a 61-51 win against Forest (Ocala). He added seven assists, eight rebounds, one steal, and was 5-of-6 from the free throw line. In the championship game, a 61-51 win against top-seed Gainesville, Jones scored 11 points, dished out seven assists, grabbed three rebounds, collected two steals, and he was 5-of-6 from the free throw line.
February 4 – Mahailya Reeves (Union County girls weightlifting)
The 15-year-old benched a state record 360 pounds, breaking the state mark by 55 pounds, and that coupled with her 185 in the clean-and-jerk gave her a state record total of 545 pounds in the unlimited division. Reeves' win gave the defending 1A state champions two first-place finishes, as Union County finished fourth at the FHSAA Girls Weightlifting Finals at Arnold High School in Panama City Beach.
January 28 – Jalen Speer (P.K. Yonge boys basketball)
The junior combo guard helped lead the Blue Wave to a 2-1 week. After scoring 17 points and grabbing four rebounds in a home loss to 6A No. 2 Eastside (Gainesville), Speer scored 22 points, had three assists, four rebounds and four steals in a 65-55 upset win at Class 3A No. 1 Orlando Christian Prep. But he saved his best for last. Speer scored 32 points and grabbed six rebounds, and he hit the game-winning free throw with no time on the clock, in a 54-53 win at defending 1A state champion Wildwood.
January 21 – KJ Bradley (Eastside boys basketball)
Bradley helped lead the Rams to a 3-0 week. The junior guard scored 13 points and grabbed five rebounds in a 57-41 win at Williston to start the week. He followed that up with 14 points in a 41-40 win at Santa Fe (Alachua) and finished the week with 14 points in a home win against St. Francis Catholic Academy (Gainesville). Bradley, who finished the week with 11 rebounds, was the only Rams' player in double figures in all three games.
January 14 – Sierra Millinor (Eastside girls soccer)
Less than a week after tying the school record for goals in a game (six), Millinor followed it up with seven more goals in leading the Lady Rams (12-2) to a 2-0 week. The senior scored four straight goals in a 5-0 win against Citrus (Inverness) on January 14. The following night, the Huntingdon College signee had a hat trick in a 7-0 win at Vanguard (Ocala).
January 7 – Isabella Quintana (Eastside girls soccer)
Quintana set a school record with six goals in an 8-0 win against Crystal River on January 8. Teammate Sierra Millinor would end up tying the record a couple of games later in an 8-0 win at North Marion (Citra). Quintana scored the other two goals against the Colts and added five assists. She had three goals and an assist in an 8-0 win at home against North Marion as part of a 3-0 week for the Lady Rams. The senior finished with the week with 11 goals in three games.
December 31 – Mya McGraw (P.K. Yonge girls basketball)
The sophomore helped lead the Lady Blue Wave (14-1) to a 2-0 week against state-ranked teams. She just missed a double-double with 16 points and nine rebounds in a 51-46 come-from-behind win at Class 1A #1 Trenton on Thursday, Jan. 3. She also had five blocks. The following night, McGraw scored 24 points and grabbed 18 rebounds in a 77-59 win against Class 5A #3 Raines (Jacksonville).
December 24 – Byron Smith (P.K. Yonge boys basketball)
Smith helped lead the Blue Wave to a 3-1 record and a runner-up finish at the Hitchcock's Challenge in Alachua. The senior averaged 13 points, five rebounds, three assists, and three steals in four games. He scored his tournament high (18 points) in a 64-57 win in overtime against Class 7A #9 Belen Jesuit (Miami) on Day #1 of the tournament. Two nights later, Smith's corner trey with 18 seconds left against Class 7A Gainesville gave the Blue Wave a four-point lead in a 50-47 win against the Hurricanes.
December 17 – Niyah Jackson (Williston girls basketball)
Jackson was the top performer at the SAMCO Classic Christmas Tournament at Trenton, Dec. 20-22. On Thursday, the senior scored 32 points and added nine assists, two blocks, four steals and three rebounds in a win against Newberry. On Friday, she scored 26 points and added three assists and three steals and three rebounds in a loss to host Trenton. Jackson had a monster game in an upset of Class 1A No. 1 Lafayette (Mayo), scoring 49 points, while adding three assists, five steals and two rebounds. In a loss to Trenton in the championship game on Saturday, Jackson scored 22 points, and added six assists, one block, three steals, and one rebound.
December 10 – Jesse Landis (Eastside boys soccer)
The junior helped lead the Rams to a 2-0 week. He scored a goal and added an assist in a 5-0 win at Lake Weir (Ocala). Two days later, Landis scored four goals in a 7-1 win at Belleview, which ran Eastside's undefeated streak to nine games.
December 3 – Taniah Bowers (Trenton girls basketball)
Bowers helped lead the Lady Tigers to a 3-0 week following a triple-double and a double-double. The senior flirted with a triple-double to start the week in a 59-17 win against Cedar Key. She had 13 points, 10 steals and seven assists. She followed that up with 17 points, 12 assists and 11 steals in a 72-32 win against Dixie County (Cross City). The Class 1A Tigers defeated 7A Gainesville, 52-38, at the Andy Hart Invitational at Lafayette (Mayo) to end the week. Bowers scored eight points, grabbed six rebounds, picked up nine steals, and added four assists as Trenton stayed unbeaten.
November 26 – Abbey Rivas (Santa Fe girls soccer)
The senior helped the Hawthorne football team advance to the regional championship with a 50-27 win against Crescent City in a Class 1A-Region 4 semifinal. He rushed for 225 yards and two touchdowns on 25 carries. Fields gave the Hornets (11-0) a 20-7 lead in the second quarter with a 10-yard touchdown run. He added a 1-yard TD in the third quarter that proved to be the game-winning score.
November 19 – No award due to Thanksgiving break
November 12 – Uveekie Fields (Hawthorne football)
The senior helped the Hawthorne football team advance to the regional championship with a 50-27 win against Crescent City in a Class 1A-Region 4 semifinal. He rushed for 225 yards and two touchdowns on 25 carries. Fields gave the Hornets (11-0) a 20-7 lead in the second quarter with a 10-yard touchdown run. He added a 1-yard TD in the third quarter that proved to be the game-winning score.
November 5 – Julian Hill (Buchholz boys swimming)
Hill helped lead the Bobcats to a top five finish at the FHSAA Class 4A Swimming & Diving Finals in Stuart. The Arizona State University signee won two state titles. The senior won both the 200 free (1:35.70) and the 500 free (4:22.35) as Buchholz finished in fourth place. He was also a member of the state runner-up relay teams (200 medley, 400 free).
October 29 – Lauren Jones (Oak Hall girls cross country)
The freshman helped lead the Lady Eagles to their eighth regional title in nine years. Jones finished with a time of 18:56.93 to place first and win the Class 1A-Region 2 individual title. The Oak Hall girls advanced to the program's 18th straight state meet.
October 22 – Ella Steen (Santa Fe girls cross country)
Steen helped lead the Santa Fe girls' cross country team to the Class 2A-District 5 title. The freshman had the Raiders' top performance by finishing third with a time of 22:01. It was the first team title in school history for the Santa Fe girls.
October 15 – Amelia Williams (Buchholz girls golf)
The junior helped lead the Lady Bobcats to their third straight Class 3A-District 2 title. Williams shot a tournament-best 77 to help her team win by 20 strokes. It was also the sixth title in the last seven years for Buchholz, which advanced to the 3A-Region 1 tournament.
October 8 – Colby Toner (P.K. Yonge boys golf)
Toner helped lead the Blue Wave to their first Ann & John Ives Alachua County Tournament title. The junior beat his teammate, Jake Davis, in a playoff to earn the top medalist honor at the tournament. Toner, a St. Francis Catholic Academy transfer, and Davis, both shot an even-par 72. The Blue Wave finished with a team score of 308, their lowest score since 2009.
October 1 – Quinyon Mitchell (Williston football)
The senior averaged a whopping 12.6 yards per carry as the Class 1A Red Devils kept their postseason hopes alive with a 48-7 win against Class 5A Belleview on Homecoming. He carried the ball 14 times for 176 yards and two TD's. Mitchell, a Toledo commit, leads the team with 862 yards rushing and will have a chance to eclipse 1,000 yards in his seventh game this week at Taylor County (Perry).
September 24 – Calvin Littles (St. Francis Catholic Academy football)
Littles finished with 446 yards of total offense in a 42-36 loss at rival Oak Hall on Monday, Oct. 1, a game that was postponed on Friday, Sept. 28, due to weather. The senior quarterback rushed for 249 yards on 23 carries (10.8 yards per carry) with three touchdowns. Four times during the game after an Eagles' score, Littles answered. He finished with scoring runs of 20, 65 and 75 yards. He also threw for 197 yards and two TDs. After his 81-yard scoring toss, he ran in the 2-point conversion, his third 2-point play of the game. Littles accounted for all 36 points.
September 17 – Anthony Richardson (Eastside football)
The junior scored six touchdowns to help lead the Rams past visiting Lake Weir (Ocala) on Homecoming, 62-27. Richardson passed for 241 yards and two touchdowns. The University of Florida commit ran for an additional 157 yards and four scores, including a 49-yard scoring run and a 51-yard TD run, as Eastside (4-1) won its fourth straight game.
September 10 – Carlos Williams, Jr. (Dixie County football)
Williams had a monster game for the Bears against visiting Union County in a Class 1A-Region 3 game. The senior rushed for 308 yards on 18 carries in a 61-28 win. He finished the game with five touchdowns, including a long scoring run of 72 yards. Williams is averaging 212 yards per game through four games.
September 3 – Kylee Barry (Bell volleyball)
Barry helped lead the Lady Bulldogs to a 2-0 week. In a Class 1A-District 5 sweep of Madison County she had 39 assists, six aces, and seven digs. The senior finished with the week with 30 assists, seven aces, and eight digs in a district sweep of Hamilton County (Jasper).
August 27 – Madison Baynard (Newberry volleyball)
The senior middle blocker helped lead the Panthers (4-0) to a 2-0 week in 5A-District 4 action. Baynard had 10 kills, four digs and five blocks to help lead Newberry to a sweep at Interlachen. Two days later, she tied sophomore Grace Oelrich with a team-high 12 kills in a home sweep of Bradford (Starke). She finished with 22 kills, eight blocks, 20 service receptions and only one error in two games.
August 20 – Kahleil Jackson (Hawthorne football)
Jackson completed 12-of-19 passes for 400 yards and five touchdowns as the Hornets (1-0) opened up the season with a 69-0 win at Interlachen. The 6'3, 185-pound senior also added a 20-yard scoring run. Jackson, the son of former Gator Willie Jackson, had a long scoring pass of 75 yards to junior Jeremiah James.