Five area volleyball teams advance to Elite Eight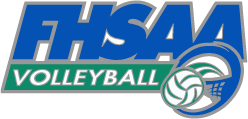 On Tuesday night, the area went 4-for-4 in the FHSAA Class 1A volleyball state playoffs, and 1-for-1 in Class 4A.
Newberry swept visiting Fort Meade 25-12, 25-8, 25-4 in the 1A Regional Semifinals to advance.
Senior Paige Dinges led the Panthers (21-3) with eight kills, followed by junior Mykenzie Tiller with seven kills.  Sophomore Paige Bankston added 14 assists, 10 service points, and three aces.
"Our seniors came out fast and set the tone for the night," said Newberry coach Hank Rone. "Fort Meade gave us an open net and Paige, Nicole (Everson) and Grace (Oelrich) took advantage of this. We knew going in that we wanted to get our role players some good time on the court.
"Our number two setter Paige Bankston had some great minutes for us. Hannah Rone and Kirsten Thomas did some great things with their opportunity."
The Panthers, who lost to Sneads in the 1A state championship last year, will host Trenton in the region final this Saturday with a spot in the state semifinals on the line.
The Tigers swept Crescent City to advance.
Sophomore Chloe Wilkerson and senior Samarie McHenry led the Tigers (15-5) with 12 kills apiece. Junior Bri Becker added 32 assists, while senior Mikaya Smith contributed 10 digs.
"Trenton has gotten better each time we played them," Rone said. "We will not look past them. They are well-coached and move defensively very fast. We need to block, be big at the net, and try to get them out of system as much as we can. They are very good in system as a volleyball team. We are looking forward to playing them Saturday."
The other Tigers, from Union County, defeated Lafayette in Mayo in four sets to advance. They will travel to Bell on Saturday.
"We knew that Mayo would put up a tough fight after coming off of a big district championship win against Hilliard," said Union County coach Jordan Windham.  "The girls came in aggressive and playing like a team. We struggled in the third set and early in the 4th, but they worked hard to get out of an 8-point deficit to come back and win.
Sophomore Jaycee Davis led the way for Union County (12-10) with 23 kills, six aces and 20 digs in the 25-19, 25-12, 24-26, 25-16 win.  Junior Maegan Beatty dished out 44 assists and added 18 digs.
"The realization that their season could be over was a big motivation to win." Windham said.  "I'm very proud of how they played against a tenacious Mayo team."
Bell, which played in the 2018 state championship game, swept visiting Hilliard to advance. The Lady Bulldogs defeated the visiting Flashes 25-22, 25-11, 25-11 to move on to Saturday's Region Final.
Senior Taria Liles and senior Maddy Sapp led the way with 18 kills apiece. Junior Michelle Heilig added seven.
Senior Melonie Piechocki had 18 digs, junior Emma Hutto finished with 25 assists & sophomore Sydney Waddle added 13 assists for Bell, which improved to 19-5.
"We started the first set extremely slow and lacked some focus on our part and fell behind I believe 15-3," said Bell coach Drue Barry.  "Hilliard came out very fired up and ready to play. We settled down and came back to win the first set 25-22.
"I was proud of their fight and determination to finish the set strong and not give up. The 2nd and 3rd set we played to our standard and rolled 25-11 in both of those sets. Hilliard did a very good job of digging and returned some hard hit balls. I believe our constant hitting pressure wore then down at the end."
The Lady Bulldogs will host Union County this Saturday at 2 p.m. in the Region Final, with a spot in the state semifinals on the line.  This will be the fifth meeting of the season between the Tigers and the Bulldogs, with Bell winning the previous four meetings by a combined 11 games to two.
"Even though we have beaten them all four times we are definitely not looking past them," Barry said.  "We learned last season during the playoffs to take it one game at a time.
"Jordan has done a great job at Union County and they always come to play. She has a sophomore, Jacee Davis, that is very good. We play our best when we play up tempo and continue to hit."
One of those match-ups was in the district championship game on October 15.  The Bulldogs won a tough one in four sets.
"We hit the ball extremely hard," Barry said.  "Maddy Sapp had 24 kills, Taria Liles 17 and Michelle Heilig had nine.  It should be a good competitive game on both sides."
The Santa Fe volleyball team advanced in Class 4A with a 3-1 win against visiting South Walton (Santa Rosa Beach).
Junior Rylie Tam led the way with 22 kills, followed by sophomore Jalyn Stout with 17 kills. Sophomore Miya Thomas finished with 20 digs and 10 aces.
Stout also added 25 assists, 18 digs and three aces for the Raiders, who have advanced to the state semifinals the past two years (4A – 2019 & 6A – 2018).
Santa Fe (21-8) will travel to Bishop Kenny (Jacksonville) on Saturday for the Region Final with a chance to advance to its third straight state semifinal.