Bell football preview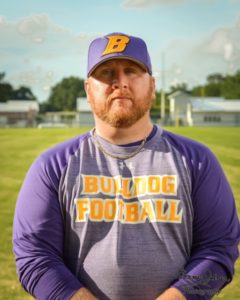 By Mike Ridaught
Twitter – @ridaught
Joey Whittington enters his eighth season as head coach of the Bell football team.
Despite his longevity, the dean of coaches in the Tri-County area is feeling the effects of no spring football just as much as anybody.
"Getting going and being around teammates is so crucial for team chemistry and that is the part I've missed the most," he said.
Whittington thinks that not having spring football "will have an impact on certain parts of the game."
"For us at Bell, we are needing to replace all skill positions on offense except for QB so I wish we could've had that (spring ball)," he said. "However, the safety and health of everyone is more important so we will adapt and adjust as needed."
A total of six starters return on offense, including their signal caller.
Caden Hastings is back under center for the Bulldogs as the team's fourth leading rusher last season, averaging 3.4 yards per carry.
However, the Bulldogs must replace their top three running backs from this past fall as Jonathon Neudert (831 yards), Branden Wallace (427), and Joey Pinna (403) were seniors. The trio combined for 15 touchdowns.
On defense, a total of five starters return.
Trent Steedley is back to anchor the line after leading the team with six sacks in 2019.
However, Whittington said the 'Dogs "need to figure it out in the secondary" after losing all but one player from that group.
Bell, which finished 3-7 this past season, will once again be competing in Class 1A-Region 3.
Six of the top nine teams in their region, which includes 3-time defending state champion Madison County, will make the postseason.
Despite the challenges ahead, Whittington is optimistic about this year.
"Looking forward to the 2020 season," he said. "We return a lot of key pieces and if we can get some of our holes filled, and get the ball rolling quickly, we could be in for a great 2020."
The Bulldogs will open up the regular season at home against Franklin County (Eastpoint) on Friday, August 21.
School: Bell High School
Coach & year: Joey Whittington (8th year)
2019 record: 3-7
Number of returning offensive/defensive starters: 6 Offense/ 5 Defense
Key losses: RB Jonathon Neudert, LB Garrett Brooker, UTIL Joey Pinna, FB Branden Wallace, OG Jack Denny
Key returning players (Name, position, year): Caden Hastings QB/S (Sr.), Jordan Hernandez RB/LB (Sr.), Rhett Rankin TE/DE (Sr.), Cory Tuten RB/LB (Sr.), Lindsey Hutson OL/DL (Sr.), Trent Steedley DL (Sr.), Waylen McCumber OL/DL (Jr.), Colby Herring DL (Jr.)
Key newcomers (Name, position, year): Jayson Marino DE/OL (Sr.), Ben Dozier OL/DL (Jr.), Tristan Townsend WR/DB (Sr.), Landon Johnson OG/LB (Sr.)
Most important position battles heading into the fall: On offense solidifying the OL and then finding running backs to replace Neudert, Pinna, and Wallace. For the defensive side we need to figure it out in the secondary with losing all but one player from that group.
Outlook/expectations: Looking forward to the 2020 season we return a lot of key pieces and if we can get some of our holes filled and getting the ball rolling quickly we could be in for a great 2020. We have a very competitive schedule and we are looking forward to the weekly battles. – Coach Whittington
2020 Football Schedule
8/14 at St. Francis Catholic Academy (Gainesville), Kickoff Classic
8/21 vs. Franklin County (Eastpoint)
8/28 at Keystone Heights
9/4 vs. Branford
9/11 at Taylor (Pierson)
9/18 vs. First Academy-Leesburg
9/25 vs. Interlachen
10/2 vs. St. Francis Catholic Academy (Gainesville)
10/9 at Trenton
10/16 vs. Aucilla Christian (Monticello)
10/23 vs. Lafayette (Mayo)
Class 1A-Region 3 (top 6 make postseason)
Branford
Bell
Dixie County (Cross City)
Fort White
Hamilton County (Jasper)
Hilliard
Lafayette (Mayo)
Madison County
Union County (Lake Butler)