Trinity Catholic football preview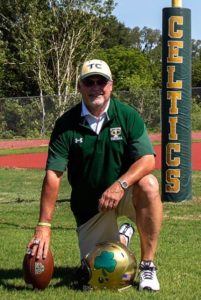 By Mike Ridaught
Twitter – @ridaught
John Brantley is back as head coach of Trinity Catholic (Ocala).
And the timing couldn't be more perfect.
But perfection is something Brantley has experienced several times as both a player and a coach.
The former University of Florida quarterback won a state title as a QB at Forest (Ocala) in 1974. He led the Wildcats to a 13-0 record and the first state football championship in Marion County history.
He was an assistant coach under Kerwin Bell in 2005 when the Celtics went wire-to-wire to finish 14-0 and win the Class 2B state title.
And he won his first state title as Trinity Catholic head coach in 2010. That Celtics' team also went 14-0 and won the Class 2B state title.
In seven years as head coach at Trinity Catholic, Brantley's teams never lost a district game.
They were district champions every year, going 26-0 in league play — a Marion County record.
This season, Brantley takes over for Andrew Thomas, who left to become the head coach at Union County High School in Lake Butler.
He inherits an 8-win team that advanced to the second round of the Class 3A state playoffs in 2019, before falling at #1 seed Pensacola Catholic.
And they are loaded on the offensive side of the ball, which is Brantley's forte.
Ocala Star-Banner Offensive Player of the Year Jamarian Samuel returns after rushing for over 2,000 yards and finishing just under 200 yards shy of 3,000 all-purpose yards.
He'll be running behind an offensive line that has three seniors committed to D-I schools – OT Caleb Johnson (6'7, 290; Auburn commit), OL Jake Slaughter (6'4, 300; Florida commit), OL Garner Langlo (6'7, 270; Auburn commit).
One of the top newcomers is Oak Hall School (Gainesville) transfer QB Cole Gonzales, who is the son of University of Florida wide receivers coach and co-offensive coordinator Billy Gonzales.
Last year as a sophomore for the Eagles he completed 137 of 238 passes for 2,112 yards and 24 touchdowns and only five interceptions. Gonzales also rushed for 885 yards with 16 scores in helping to lead Oak Hall to its first FHSAA playoff win in school history.
"He's got good fundamentals and will have good players around him," said Brantley, whose son John Brantley, IV led the Celtics to back-to-back state championship game appearances in 2005 and 2006. "I like sons of coaches."
Defense will be the biggest challenge for the Celtics, who lose Chase Oliver, the Star-Banner's Defensive Player of the Year.
Oliver led the Celtics & Marion County in total tackles (130) and tackles for a loss (23). He is one of seven starters lost on defense.
However, LB Marquis Jones (6'1, 195) returns after recording 79 tackles as a sophomore.
No spring football "hurts first year coaches."
But this isn't Brantley's first rodeo.
The Celtics have the horses to compete for the Class 3A state title.
"The expectations are always high at Trinity Catholic," said Brantley. "We have only one goal."
School: Trinity Catholic (Ocala)
Coach & year: John Brantley (1st year/2nd stint) (67-20 overall) (Brantley was head coach of the Celtics from 2008-2014)
2019 record: 8-4
Number of starters returning on offense/defense: 8/4
Key losses: OL Miller Merriweather Lewis, LB/S Chase Oliver, & ATH Jamarrien Burt
Key returning players: RB/DB Jamarian Samuel (5'10, 190; Sr.), OT Caleb Johnson (6'7, 290; Sr., Auburn commit), OL Jake Slaughter (6'4, 300; Sr., Florida commit), OL Garner Langlo (6'7, 270; Sr., Auburn commit), TE Jaylen Williams (6'4, 235; Jr.), LB Marquis Jones (6'1, 195; Jr.), K Alvaro Cebrian (5'11, 170; Sr.)
Key newcomers: QB Cole Gonzales (Jr.), DE Jacque Njeanwobe (Sr.), CB/RB Daijhae Abate (Sr.), DL Josh Pitts (So.), RB Beau Beard (So.)
Outlook/Expectations:  "The expectations are always high at Trinity Catholic. We have only one goal." – Brantley
2020 Football Schedule
8/14 vs. Dixie County (Cross City), Kickoff Classic
8/20 (Thur.) at Leon (Tallahassee), Gene Cox Stadium
8/28 at P.K. Yonge (Gainesville)
9/11 vs. South Sumter (Bushnell)
9/18 at North Florida Christian (Tallahassee)
9/25 vs. The Villages
10/2 vs. Fort White
10/9 at Melbourne Central Catholic
10/16 at Victory Christian (Lakeland)
10/23 vs. Calvary Christian (Clearwater)
10/30 vs. Dunnellon
Class 3A-Region 1 (top six make the playoffs)
Andrew Jackson (Jacksonville)
Baldwin
Episcopal (Jacksonville)
Florida High (Tallahassee)
Interlachen
P.K. Yonge (Gainesville)
Pensacola Catholic
Trinity Catholic (Ocala)
Trinity Christian Academy (Jacksonville)
Walton (Defuniak Springs)
Wolfson (Jacksonville)