Santa Fe football preview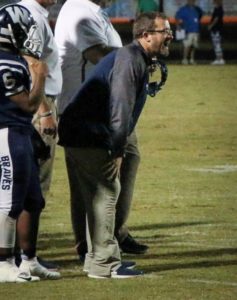 By Mike Ridaught
Twitter – @ridaught
It's been "a whirlwind" for new Santa Fe head football coach Jared Allen.
Allen was hired to replace Dock Pollard, who left the Raiders after two seasons in late January to become head coach at Gainesville High School.
The first-year coach has been traveling back and forth between DeFuniak Springs and Alachua as his wife was expecting a baby (Jax Bryant Allen was born at Midnight on May 10).
His first day at school in Alachua was going to be March 16th, "and we all know what happened that day."
He has spent time calling his players "to check in on them and their families, making sure that they don't have any needs other than football" during the Covid-19 pandemic.
"At the end of the day, I feel that we worry a lot about football, but I think this is God's way of telling us to slow down and take a step back," said Allen, who has been an assistant coach at Walton (DeFuniak Springs) and Pensacola Catholic. "Plus, shifting the focus away from football, in my opinion, makes it to where the players are chomping at the bit getting ready for summer workouts."
From an organizational standpoint, he doesn't think it's (no spring football) that big of a deal.
"We can install our entire offense in three days," he explained. "After that it's just getting reps to perfect schemes."
However, Allen did note that having no spring football was also going to hurt in a number of ways.
"First, I know of coaches that still haven't sent their helmets off for reconditioning and with the plants just opening back up there's no way to know, if they send them off now, when they will get them back," he said.
Secondly, Allen said injuries could become a problem.
"I think that we're going to have a large influx of injuries this year if we try to jump back into it too soon just because of the fact that the kids aren't conditioned and ready to play at this moment," he said.
The Raiders lost some key players like Deron Reid, Kynian Murphy, and Darrius Powell, but Allen still has high expectations entering his first season.
"If the guys show up every day and do what is asked of them, I can easily see us winning 7+ football games this year and making the playoffs," he said.
School: Santa Fe High School
Coach: Jared Allen (1st year)
2019 record: 5-5
Number of returning starters: We graduated 15 players off of a team of around 30, so there will be a lot of new faces starting for us.
Key losses: Deron Reid, Kynian Murphy, Darrius Powell, Vince Dixon III are some of the names I know that we are missing, but that whole group of seniors will be tough to replace. It's hard to lose 15 at a school the size of Santa Fe.
Key Returners: Najhay Calhoun (DT, 2021), Balin Strickland (OLB, 2021), Gerrell Richardson (Striker, 2021)
Key Newcomers: my son, Landon Rogers 6'3, 207lb (QB 2022), is moving down with me from Walton High School, but other than that I haven't really gotten to work with my guys yet to see who is ready to step into major roles for us.
Key position battles: As our staff is new, coming in this year, I feel that our guys should be prepared to battle for all 11 starting positions on offense and defense. Guys aren't promised to start because they started last year. Everything that we do is going to be earned and that includes being a starter.
Outlook/Expectations: SFHS is a great school, full of tradition, and we are looking at this thing like building a house. Before you go up you have to dig and get a good foundation set. We are hoping that this summer will provide us with the opportunity to get the foundation set for our program moving forward and then we'll go from there. The players have been excited about getting started and if the guys show up every day and do what is asked of them, I can easily see us winning 7+ football games this year and making the playoffs, and then once you get to the playoffs It's just taking it week by week and see where you can go from there.
2020 Football Schedule
8/14 vs. North Marion (Citra), Kickoff Classic
8/21 vs. Newberry
8/28 at Suwannee (Live Oak)
9/4 vs. Fort White
9/11 at Wakulla (Crawfordville)
9/18 vs. P.K. Yonge (Gainesville), Homecoming
10/2 at Union County (Lake Butler)
10/9 vs. Palatka
10/15 (Thur.) vs. Forest (Ocala), Senior Night
10/23 at Eastside (Gainesville)
10/29 at Buchholz (Gainesville)
Class 4A-Region 1 (top six make the playoffs)
Bay (Panama City)
Bolles (Jacksonville)
Bradford (Starke)
Fernandina Beach
Gadsden County (Havana)
Marianna
North Bay Haven Academy (Panama City)
Rutherford (Panama City)
Santa Fe (Alachua)
South Walton (Santa Rosa Beach)
West Nassau (Callahan)