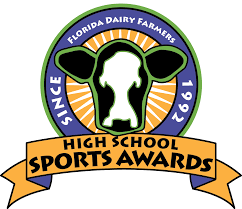 GAINESVILLE (March 31) – Isaiah Adams, a 6-5 senior forward from Paxon School for Advanced Studies in Jacksonville, has been named the 2020 Florida Dairy Farmers Mr. Basketball in a final round of voting by a statewide panel of high school basketball coaches and media representatives.
The University of Central Florida signee, who was the 2019 Class 6A Player-of-the-Year, and earlier this month was named the 2020 Class 4A Player-of-the-Year, averaged 23.0 points, 11.0 rebounds and 4.0 blocks per game in leading his team to a 25-6 record and a spot in the Class 4A Final Four.
Adams tallied 10 of the 19 first-place votes and 125 points to finish ahead of Class 6A POY Dionte Blanch of East Lake, who had six first-place votes and 91 points. Class 1A POY Marcus Niblack of Wildwood finished third (64), followed by Class 7A POY Ga'Khari LaCount of Coral Park (57), Class 3A POY Yussif Basa-Ama of Saint Andrew's (53), Class 2A POY Ven Allen-Lubin of Orlando Christian Prep (42) and Class 5A POY Emanuel Sharp of Blake (34).
The Florida Dairy Farmers High School Sports Awards program exemplifies Florida Dairy Farmers' commitment to the state's youth. These awards honor the state's top athletes and coaches in all 30 FHSAA sanctioned sports. The program also emphasizes to young people the importance of keeping dairy products a primary part of their diet in their overall nutrition plan.
Area players in bold
2020 FINAL VOTING RESULTS
Player Total Points 1st-place Votes
Isaiah Adams (Jacksonville Paxon) 125 10
Dionte Blanch 91 6
Marcus Niblack (Wildwood) 64 1
Ga'Khari LaCount 57 0
Yussif Basa-Ama 53 1
Ven Allen-Lubin 42 0
Emanuel Sharp 34 1
Congrats to @PaxonBasketball Senior @IsaiahIAAdams on winning Florida's Mr. Basketball (just the second Jax native, and first since '93, to win the award). Adams averaged 23.7 PPG and 11.1 RPG on the way to the @FHSAA Final Four. Now he's Orlando bound, signed w/ @UCF_MBB #ASJax pic.twitter.com/4HIXX5jTbP

— Stuart Webber (@StuartASJax) March 31, 2020
NOTE: The Mr. Basketball Award was sponsored by Florida Sports News, Inc., from 1983 to 1992
Past Mr. Basketball Winners:
1983 – Frank Ford, Kissimmee Osceola
1984 – Vernon Maxwell, Gainesville Buchholz
1985 – Toney Mack, Brandon
1986 – Chris Corchiani, Hialeah Miami Lakes
1987 – Chris Corchiani, Hialeah Miami Lakes
1988 – Johnny Walker, Quincy Shanks
1989 – Douglas Edwards, Miami Senior
1990 – Clifford Rozier, Bradenton Southeast
1991 – Steve Edwards, Miami Senior
1992 – Steve Edwards, Miami Senior
1993 – James Collins, Jacksonville Jackson
1994 – LeRon Williams, Bradenton Southeast
1995 – Vince Carter, Daytona Beach Mainland
1996 – Luke Barnes, South Miami
1997 – Jason Pryor, Fort Walton Beach
1998 – Teddy Dupay, Cape Coral Mariner
1999 – Casey Sanders, Tampa Prep
2000 – Orien Greene, Gainesville
2001- Adrian McPherson, Bradenton Southeast
2002 – Amare Stoudemire, Orlando Cypress Creek
2003 – Chris Richard, Lakeland Kathleen
2004 – Darius Washington, Orlando Edgewater
2005 – Keith Brumbaugh, Deland
2006 – Nick Calathes, Winter Park Lake Howell
2007 – Nick Calathes, Winter Park Lake Howell
2008 – Ray Shipman, Miami Monsignor Pace
2009 – Brandon Knight, Ft. Lauderdale Pine Crest
2010 – Brandon Knight, Ft. Lauderdale Pine Crest
2011 – Austin Rivers, Winter Park
2012 – Joel Berry II, Lake Highland Preparatory
2013 – Joel Berry II, Lake Highland Preparatory
2014 – Joel Berry II, Lake Highland Preparatory
2015 – Antonio Blakeney, Orlando Oak Ridge
2016 – Tony Bradley, Bartow
2017 – Kevin Knox, Tampa Catholic
2018 – Vernon Carey, Jr., NSU University School
2019 – Vernon Carey, Jr., NSU University School