Bartow's Terrence McGriff Named 2020 Boys' Basketball Coach of the Year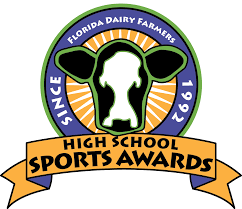 GAINESVILLE (March 31) – Terrence McGriff of Bartow High School has been named the 2020 Florida Dairy Farmers Boys' Basketball Coach of the Year following a final round of voting by a statewide panel of high school basketball coaches and media representatives.
McGriff led Bartow to a 31-1 record and the Class 6A state championship. In 18 years at the school, McGriff has posted a 328-127 record with two state titles (2010 and 2020) and three other Final Four appearances (2009-13-14).
McGriff, who was selected as the Class 6A Coach of the Year in a previous round of voting, finished with 142 points to win the overall award ahead of Class 3A COY John O'Connell of Saint Andrew's (95) and Class 1A COY Greg Bowie of Hawthorne (68).
Class 7A COY Tramaine Stevens of Miramar finished fourth (55), followed by Class 4A COY Terrence Williams of Stranahan (48), Class 2A COY Treig Burke of Orlando Christian Prep (42), and Class 5A COY Eli A. Bryant of Rickards (29).
The Florida Dairy Farmers High School Sports Awards program exemplifies Florida Dairy Farmers' commitment to the state's youth. This is the 28th year of these awards as we honor the state's top athletes and coaches in all 30 FHSAA sanctioned sports. The program also emphasizes to young people the importance of keeping dairy products a primary part of their diet in their overall nutrition plan.
Area coaches in bold
2020 FINAL VOTING RESULTS
Player Total Points 1st-place Votes
Terrence McGriff 142 12
John O'Connell 95 2
Greg Bowie (Hawthorne) 68 3
Tramaine Stevens 55 1
Terrence Williams 48 0
Treig Burke 42 0
Eli A. Bryant 29 0
Past Boys' Basketball Coaching Winners:
1993 – Bernard Wilkes, Jacksonville Ribault
1994 – John Ellerbee, Malone
1995 – Bob Carroll, Bradenton Southeast
1996 – Wade Edmond, Pompano Beach Blanche Ely
1997 – Joey Pons, Fort Walton Beach
1998 – Bruce Rosebrock, Jacksonville Wolfson
1999 – Vernon Eppinette, Port St. Joe
2000 – Anthony Long, Gainesville
2001 – Mark Rickman, Orlando Boone
2002 – Ricky McCullough, Chipley
2003 – Mark Lieberman, Miami Pace
2004 – Mike Gaudy, Cocoa Beach
2005 – Danny Wright, Lakewood
2006 – Matt Hixenbaugh, Winter Park
2007 – Steve Kohn, Winter Park Lake Howell
2008 – Lawton Williams III, Miami Norland
2009 – Kelly Beckham, Gainesville
2010 – Eli Bryant, Tallahassee Rickards
2011 – Fred Ross, Palm Beach Gardens Dwyer
2012 – Billy Washington, Lake Wales
2013 – Melvin Randall, Pompano Beach Blanche Ely
2014 – Ed Kershner, Oviedo
2015 – Melvin Randall, Pompano Beach Blanche Ely
2016 – Shane Whitsett, Poinciana
2017 – Darryl Burrows, Dillard
2018 – Sean Campbell, Leesburg
2019 – Greg Watson, Crestview