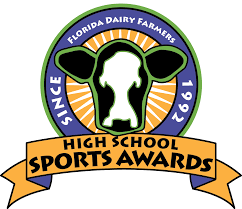 GAINESVILLE (March 26) – Senior forward Leonardo Perez from Cape Coral Mariner High School has been selected the 2020 Florida Dairy Farmers Mr. Soccer following a final round of voting by a statewide panel of high school boys' soccer coaches and media representatives.
Perez scored 69 goals and added 31 assists in leading his squad to a 24-3-2 record and a Class 4A state runnerup finish.
He finished his high school career with 148 goals and 68 assists and will continue his soccer career at the United States Naval Academy.  Perez, who was the state's Class 3A Player-of-the-Year in 2019, and was earlier named this year's Class 4A Player-of-the-Year, tallied 91 points in winning this year's award.
Class 7A POY Joao Negrao of Boca Raton was the runnerup with 77 points, followed in order by Class 5A POY Carson Bien of Tampa Jesuit (69), Class 3A POY Joel Castellanos of NSU University School (47), Class 6A POY Brian Schaefer of Fletcher (44) and Class 2A POY Patrick Horan of Canterbury (42).
Marcelo Castillo won the Coach-of-the-Year award after leading Boca Raton to the Class 7A state title, finishing with a perfect 28-0 record to become only the fifth team in Florida prep soccer history to finish a season unbeaten and untied, joining Tallahasse Leon (1988), Lakeland Christian (1994 and '96) and Ponte Vedra (2016).
In 15 years year at Boca Raton, Castillo has compiled a 332-46-22 record with three state titles (2010-16-20) and two state runnerup finishes (2009 and 2014).  He tallied 99 points in winning this year's award, with Class 6A COY Wes Nelson of Niceville finishing second with 85 points. Class 5A COY Eric Sims of Tampa Jesuit was third with 64 points, followed by Class 3A COY Thiago Oliveira of NSU University School (55), Class 4A COY Chris Bart-Williams of Gulliver Prep (40) and Class 2A COY Jason Montoya of Shorecrest Prep (17).
The Florida Dairy Farmers High School Sports Awards program exemplifies Florida Dairy Farmers' commitment to the state's youth. This is the 28th year of these unique awards as we honor the state's top athletes and coaches in all 30 FHSAA sanctioned and recognized sports. The program also emphasizes to young people the importance of keeping dairy products a primary part of their diet in their overall nutrition plan.
(Area players/coaches bold)
Past Mr. Soccer Winners:
1993 – Frankie Cipolla, Longwood Lyman
1994 – Michael McIlwane, Tampa Berkeley Prep
1995 – Kevin Alvero, Dunedin
1996 – Chris Welling, Naples
1997 – Mark Pizzulo, St. Thomas Aquinas
1998 – Sheldon Barnes, St. Thomas Aquinas
1999 – Jeremy Plokemba, Tampa Jesuit
2000 – Rob Daly, Tampa Jesuit
2001 – Justin Brandt, Miami Sunset
2002 – Hunter West, Bradenton Manatee
2003 – Jason Poole, Brandon
2004 – Tyler Davis, Tampa Berkeley Prep
2005 – Fabrice Noel, Palm Beach Lakes
2006 – Hansen Woodruff, South Fork
2007 – Eugene Starikov, Palm Harbor University
2008 – Luis Yamashita, Miami Varela
2009 – Ryan Price, Melbourne
2010 – Colby Burdette, Boca Raton
2011 – Verneri Valimaa, Delray American Heritage
2012 – Luis Betancur, Plantation American Heritage
2013 – Shaddy Douidar, Tampa Preparatory School
2014 – Remington Pimm, Sunlake
2015 – Trey Langlois, Jacksonville Bishop Kenny
2016 – Frankie de la Camara, Belen Jesuit
2017 – Reed Davis, Orange Park Fleming Island
2018 – Reed Davis, Orange Park Fleming Island
2019 – Noah Sims, Auburndale
PAST BOYS' SOCCER COACH WINNERS:
1993 – Dave Zimmerman, Tampa Berkeley Prep
1994 – Jerry McCabe, Melbourne
1995 – Santiago Molina, Tallahassee Lincoln
1996 – Santiago Molina, Tallahassee Lincoln
1997 – Bob Bauman, Tampa Jesuit
1998 – Kevin Brown, Neptune Beach Fletcher
1999 – Jim Willenborg, Hialeah American
2000 – Adrian Bush, Tampa Gaither
2001 – Bob Bauman, Tampa Jesuit
2002 – Darrin Karuzas, Boca Raton Olympic Heights
2003 – Allen Ware, Brandon
2004 – Dave Zimmerman, Tampa Berkeley Prep
2005 – Jay Flipse, Miami Sunset
2006 – David Sica, Clearwater Countryside
2007 – Matias Asorey, Miami Varela
2008 – Jose DaCosta, Tampa Prep
2009 – Jerry McCabe, Melbourne
2010 – Jerry McCabe, Melbourne
2011 – Jobie Hughes, St. Thomas Aquinas
2012 – Juan (John) Ramos, Weston Cypress Bay
2013 – Daniel Villarreal, Ponte Vedra
2014 – Michael Stewart, Christopher Columbus
2015 – Chris McDaniel, Choctawhatchee
2016 – Daniel Villarreal, Ponte Vedra
2017 – Nate Murphy, Daytona Beach Seabreeze
2018 – Caleb Roberts, Plant City
2019 – Guy Jennings, Auburndale