Vero Beach's Madelaine Rhodes Named Miss Soccer; Bartram Trail's Jen Rodriguez Wins Top Coaching Honor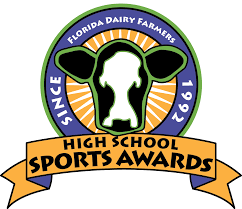 GAINESVILLE (March 24) – Madelaine Rhodes from Vero Beach High School has been selected as the Florida Dairy Farmers 2020 Miss Soccer following a final round of voting by a statewide panel of girls' high school soccer coaches and media representatives.
Rhodes, a senior forward, scored 50 goals and added 13 assists this season in leading her team to an 18-2 record and a spot in the Class 7A Final Four. The University of Florida signee was the
Class 5A Player-of-the-Year in 2019 and totaled 137 goals with 42 assists during the past three
years.
Rhodes, who was earlier named the Class 7A Player-of-the-Year, had seven first-place votes and tallied 101 points to finish ahead of Class 3A POY Olivia Candelino of The Bolles School (86) in the voting. Class 6A POY Mia Atrio of Our Lady of Lourdes Academy (51) finished third followed by Class 5A POY Jordyn Pitter of Archbishop McCarthy (32), Class 2A POY Paige Crews of St. Johns Country Day (24) and Class 4A POY Chloe Iuliano of Bishop Kenny (12).
Jen Rodriguez, who guided Bartram Trail High School to a 21-1-3 record and the Class 7A state championship, was named the Florida Dairy Farmers Girls' Soccer Coach-of-the-Year.
After leading her team to Final Four appearances in both 2018 and 2019, Rodriguez broke through for the first state championship in her 19 years at Bartram Trail, including her 300th career win in a 2-1 state semifinal victory over Tampa Plant, before finishing off the title-run with a 5-0 win over Cypress Bay in the championship game.
Rodriguez, who was previously selected as the Class 7A Coach of the Year, finished with 116 points in winning this year's award. Placing second was Class 3A COY Matt Tracy of The Bolles School, who tallied 71 points after guiding his school to its third straight state title.  Class 2A COY Mike Pickett of St. Johns Country Day (56) finished third in the voting followed by Class 5A COY Mike Sica of Archbishop McCarthy (41), Class 4A COY Tom Devenny of Bishop Kenny (36) and Class 6A COY Ramiro Vengoechea of Our Lady of Lourdes Academy (15).
The Florida Dairy Farmers High School Sports Awards program exemplifies Florida Dairy Farmers' commitment to the state's youth. This is the 27th year of these unique awards as we honor the state's top athletes and coaches in all 30 FHSAA sanctioned and recognized sports. The program also emphasizes to young people the importance of keeping dairy products a primary part of their diet in their overall nutrition plan.
2020 FINAL VOTING RESULTS (Area players/coaches bold)
Player, School Total Points 1st-place Votes
Madelaine Rhodes, Vero Beach 101 7
Olivia Candelino, Bolles (Jacksonville) 86 6
Mia Atrio, Our Lady of Lourdes Academy (Miami) 51 2
Jordyn Pitter, Archbishop McCarthy (Southwest Ranches) 32 0
Paige Crews, St. Johns Country Day (Orange Park) 24 0
Chloe Iuliano, Bishop Kenny (Jacksonville) 12 0
Past Miss Soccer Winners:
1993 – Stacia Masters, Tampa Leto
1994 – Robin Cofer, Clearwater Central Catholic
1995 – Jill Ford, Orange Park
1996 – Gina Foster, St. Thomas Aquinas
1997 – Andrea Sellers, Satellite Beach
1998 – Alexis Mackenzie, St. Thomas Aquinas
1999 – Aly Benitez, Lake Brantley
2000 – Nandi Pryce, Lake Howell
2001 – Annie Adams, Gulf Breeze
2002 – Holly Ryder, Plantation American Heritage
2003 – Alison Tradd, Lake Mary
2004 – Ashlyn Harris, Satellite
2005 – Brianna Schooley, Parkland Douglas
2006 – Brianna Schooley, Parkland Douglas
2007 – Ella Stephan, Satellite
2008 – Kayla Grimsley, Lakeland George Jenkins
2009 – Kristen Grubka, Melbourne
2010 – Dara Spital, Miami Gulliver Prep
2011 – Dara Spital, Miami Gulliver Prep
2012 – Carson Pickett, Orange Park St. John's Country Day
2013 – Tabitha Tindell, Ocala Trinity Catholic
2014 – Melanie Monteagudo, Plantation American Heritage
2015 – Melanie Monteagudo, Plantation American Heritage
2016 – Emily Madril, Navarre
2017 – Miracle Porter, Palm Coast Matanzas
2018 – Abbey Newton, Orange Park St. Johns Country Day
2019 – Jody Brown, Montverde Academy
2020 FINAL VOTING RESULTS
Player Total Points 1st-place Votes
Jen Rodriguez, Bartram Trail (St. Johns) 116 8
Matt Tracy, Bolles (Jacksonville) 71 4
Mike Pickett, St. Johns Country Day (Orange Park) 56 2
Mike Sica, Archbishop McCarthy (SW Ranches) 41 1
Tom Devenny, Bishop Kenny (Jacksonville) 36 0
Ramiro Vengoechea, Our Lady of Lourdes Academy (Miami) 15 0
Past Girls' Soccer Coach Winners:
1993 – Carlos Giron, St. Thomas Aquinas
1994 – Gary Bennett, Longwood Lyman
1995 – Frank Adsit, Jacksonville Bolles
1996 – Rod Kenney, Orange Park
1997 – Carlos Giron, St. Thomas Aquinas
1998 – Bill Eissele, Lake Mary
1999 – Kenny Morgan, Pensacola Washington
2000 – Dean Johnson, Lakeland Christian
2001 – Mike Lagow, Gulf Breeze
2002 – Mike Lagow, Gulf Breeze
2003 – Laura Rountree, Parkland Douglas
2004 – Fidgi Haig, Satellite
2005 – Laura Rountree, Parkland Douglas
2006 – Laura Rountree, Parkland Douglas
2007 – Brett Terry, Satellite
2008 – Joe Lenard, Lakeland George Jenkins
2009 – John Planamenta, Palm Harbor University
2010 – Scott Carswell, Merritt Island
2011 – Everton Edwards, Gulliver Prep
2012 – Mike Pickett, Orange Park St. Johns Country Day
2013 – Rosanna Lord, Melbourne
2014 – Rosanna Lord, Melbourne
2015 – Matt Tracy, Jacksonville Bolles 
2016 – Scott Waisanen, Oviedo
2017 – Mike Pickett, Orange Park St. Johns Country Day
2018 – Mike Pickett, Orange Park St. Johns Country Day
2019 – Randy Irick, Palm Harbor University