Union County's Mahailya Reeves Named Miss Weightlifting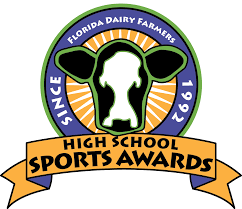 GAINESVILLE (March 16) – Union County sophomore Mahailya Reeves has been selected the 2020 Florida Dairy Farmers Miss Weightlifting.
Reeves, who repeated as the state champion in the Class 1A unlimited division, set a state-record in the bench press with a 375-pound lift, shattering the state record of 360 pounds she set last year, added a 225-pound lift in the clean-and-jerk, and finished with a state-record 600-pound total, 55 pounds more than the 545-pound state record she set in 2019.
Sunlake's Denise Garcia earned Coach-of-the-Year honors for the second straight year after leading her squad to back-to-back Class 2A state titles in her 12th year as the school's head coach. Sunlake's championship performance included two state-title winners plus a pair of runnerup finishes and one third-place finisher, beating out Navarre (28-26) for the title.
The Florida Dairy Farmers High School Sports Awards program exemplifies Florida Dairy Farmers' commitment to the state's youth. This is the 28th year of these unique awards as we honor the state's top athletes and coaches in all 30 FHSAA sanctioned and recognized sports. The program also emphasizes to young people the importance of keeping dairy products a primary part of their diet in their overall nutrition plan.