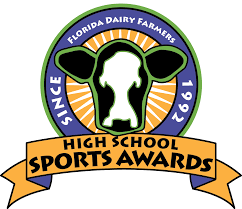 GAINESVILLE (Dec. 5) – Senior outside hitter Annie Cate Fitzpatrick of Trinity Catholic High School has been named the 2019 Florida Dairy Farmers Miss Volleyball following a final round of voting by a statewide panel of high school volleyball coaches and media representatives.
Fitzpatrick, who was the runnerup in the 2018 Miss Volleyball voting, led her squad to the 2019 Class 3A Final Four, posting 425 kills and 250 digs with a .314 hitting percentage. The first team Under Armour All-American has signed to play college volleyball at Penn State University.
After earlier being named Class 3A Player-of-the-Year, Fitzpatrick garnered 11 of the 19 first-place votes to finish with 132 points in claiming this year's award. Shania Cromartie of Tallahassee Leon was the runner-up with 100 points, followed in order by Cierra Jenkins of Lake Highland Prep (66), Sydney Conley of Hagerty (37), Skylar English of Barron Collier (26) Sarah Franklin of Lake Worth Christian (17) and Hadley Barfield of Sneads (5).
The Florida Dairy Farmers High School Sports Awards program exemplifies Florida Dairy Farmers' commitment to the state's youth. This marks the 28th year of these unique awards as we honor the state's top athletes and coaches in all 30 FHSAA sanctioned and recognized sports. The program also emphasizes to young people the importance of keeping dairy products a primary part of their diet in their overall nutrition plan.
2019 FINAL VOTING RESULTS (area players in bold)
Player Total Points 1st-Place Votes
Annie Cate Fitzpatrick, Ocala Trinity Catholic 132 12
Shania Cromartie, Leon 100 5
Cierra Jenkins, Lake Highland Prep 66 3
Sydney Conley, Hagerty 37 0
Skylar English, Barron Collier 26 0
Sarah Franklin, Lake Worth Christian 17 0
Hadley Barfield, Sneads 5 0
Past Winners:
2018 – Savannah Vach, Oviedo
2017 – Marlie Monserez, Bishop Moore
2016 – Stephanie Samedy, Clermont East Ridge 
2015 – Payton Caffrey, Winter Springs
2014 – Courtney Furlong, Oviedo
2013 – Christina Ambrose, Winter Park
2012 – Lindsey Owens, Bishop Moore
2011 – Jordan Burgess, Tampa Berkeley Preparatory
2010 – Jordan Burgess, Tampa Berkeley Preparatory
2009 – Elise Walch, Martin County
2008 – Jessica Yingling, Orlando Timber Creek
2007 – Kellie Catanach, Tampa Plant
2006 – Ruthie King, Winter Park Lake Howell
2005 – Janet Okagbaa, Tampa Berkeley Preparatory
2004 – Foluke Akinradewo, Ft. Lauderdale St. Thomas Aquinas
2003 – Michelle Staulbaum, Gainesville
2002 – Marcie Hampton, Gainesville P.K. Yonge
2001 – Julia Caner, Boca Raton Olympic Heights
2000 – Taylor Williams, Gainesville
1999 – Delavane Diaz, Tampa Berkeley Preparatory
1998 – Kristen Blatt, Venice
1997 – Lauren Westervelt, Boca Raton Olympic Heights
1996 – Jennifer Werrick, Lakeland George Jenkins
1995 – Sandra Reboucas, Orlando Cypress Creek
1994 – Jamie Velentzas, Ft. Lauderdale Cardinal Gibbons
1993 – Coleen Crocco, Ft. Lauderdale Cardinal Gibbons
1992 – Kelly Flannigan, Tampa Berkeley Preparatory