Plant City's Parker Messick Named 2019 Mr. Baseball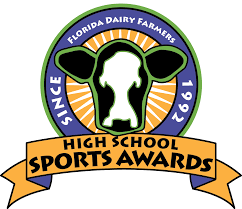 Senior pitcher Parker Messick of Plant City High School has been selected as the Florida Dairy Farmers 2019 Mr. Baseball following a final round of voting by a statewide panel of high school baseball coaches and media representatives.
Messick, who has signed to play baseball at Florida State University, led his team to the Class 8A state championship with an 11-1 record, posting a 1.06 earned run average with 125 strikeouts and only 18 walks in 86 innings pitched. In regional final and state semifinal wins, he threw 14 shutout innings, giving up only four hits and striking out 24 batters. During the season he also batted .319 with nine doubles, two home runs and 18 runs batted in.
Previously selected the Class 8A Player of the Year, Messick tallied 92 points and garnered six of the 17 first-place votes in winning this year's overall award. Finishing as runner-up was Class 7A POY Jackson Miller of Mitchell (81), while Class 9A POY Matthew Allan of Seminole (61) finished third. Rounding out the voting were, Class 5A POY Nick Durgin of Melbourne Central Catholic (42), Class 4A POY Nolan Hudl of Clearwater Calvary Christian (39), Class 6A POY Camden Minacci of Tampa Jesuit (22), Class 3A POY Brandon Walker of North Florida Christian (17), Class 2A POY Carson Pillsbury of Lecanto Seven Rivers Christian (12) and Class 1A POY Cade Parker of Bozeman (5).
The Florida Dairy Farmers High School Sports Awards program exemplifies Florida Dairy Farmers' commitment to the state's youth. This is the 27th year of these unique awards as we honor the state's top athletes and coaches in all 30 FHSAA sanctioned and recognized sports. The program also emphasizes to young people the importance of keeping dairy products a primary part of their diet in their overall nutrition plan.
2019 FINAL VOTING RESULTS: (Points awarded on a 10-7-5 basis) – area winners in bold
Player Total Points 1st-Place Votes
Parker Messick, Plant City 92 6
Jackson Miller, Mitchell 81 5
Matthew Allan, Seminole 61 4
Nick Durgin, Melbourne Central Catholic 42 1
Nolan Hudl, Calvary Christian 39 1
Camden Minacci, Jesuit 22 0
Brandon Walker North Florida Christian 17 0
Carson Pillsbury, Lecanto Seven Rivers Christian 12 0
Cade Parker, Bozeman 5 0
Past Mr. Baseball Winners:
1993 – Alex Rodriguez, Miami Westminster
1994 – Doug Million, Sarasota
1995 – Doug Blosser, Sarasota
1996 – Nick Stocks, Tampa Jesuit
1997 – Geoff Geotz, Tampa Jesuit
1998 – Felipe Lopez, Lake Brantley
1999 – Bobby Bradley, Wellington
2000 – Tony Richie, Jacksonville Bishop Kenny
2001 – Casey Kotchman, Seminole
2002 – Edgar Ramirez, Miami Southridge
2003 – James Houser, Sarasota
2004 – Warren McFadden, Davie Nova
2005 – Andrew McCutchen, Fort Meade
2006 – Max Sapp, Orlando Bishop Moore
2007 – Michael Main, Deland
2008 – Casey Kelly, Sarasota
2009 – Patrick Schuster, New Port Richey Mitchell
2010 – C. T. Bradford, Pace
2011 – Jose Fernandez, Tampa Alonso
2012 – Lance McCullers, Jr., Tampa Jesuit
2013 – Tyler Danish, Plant City
2014 – Brian Gonzalez, Archbishop McCarthy
2015 – Dillon Brown, Mosley
2016—Bo Bichette, Lakewood
2017—Logan Allen, Orange City University
2018 – Caleb Roberts, St. Thomas Aquinas