Plant City's Michael Fryrear Named 2019 Baseball Coach of the Year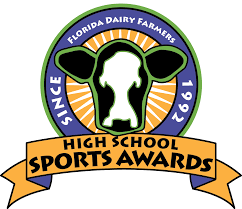 GAINESVILLE (June 15) – Michael Fryrear of Plant City High School has been named the Florida Dairy Farmers 2019 Baseball Coach of the Year following a final round of voting by a statewide panel of high school baseball coaches and media representatives.
In his seventh year at Plant City, Fryrear guided the school to a season-ending 18-game winning streak, a 30-2 record and the 2019 Class 8A state championship in its first-ever state Final Four appearance. Fryrear has an overall career record of 106-66.
Previously selected as the Class 8A COY, Fryrear won the overall award with nine first-place votes and 118 points, to finish ahead of Class 9A COY Kenne Brown of Seminole (76) and Class 7A COY Craig Faulkner of Venice (61). They were followed in the voting by Class 5A COY Tom Dooley of Melbourne Central Catholic (35), Class 6A COY Miguel Menendez of Jesuit (28), Class 3A COY Blane Fox of Lakeland Christian (22), Class 1A COY Jim Smith of Williston (17), Class 4A COY Carm Mazza of American Heritage (15) and Class 2A COY Chris Cuadra of Miami Christian (5). All nine finalists led their teams to state titles.
The Florida Dairy Farmers High School Sports Awards program exemplifies Florida Dairy Farmers' commitment to the state's youth. This is the 27th year of these unique awards as we honor the state's top athletes and coaches in all 30 FHSAA sanctioned and recognized sports. The program also emphasizes to young people the importance of keeping dairy products a primary part of their diet in their overall nutrition plan.
2019 FINAL VOTING RESULTS: (Points awarded on a 10-7-5 basis) – Area winners in bold
Coach Total Points 1st-Place Votes
Michael Fryrear, Plant City 118 9
Kenne Brown, Seminole 76 2
Craig Faulkner, Venice 61 2
Tom Dooley, Melbourne Central Catholic 35 2
Miguel Menendez, Jesuit 28 1
Blane Fox, Lakeland Christian 22 1
Jim Smith, Williston 17 0
Carm Mazza, American Heritage 15 0
Chris Cuadra, Miami Christian 5 0
Past Baseball Coach Winners:
1993 – Clyde Metcalf, Sarasota
1994 – John Crumbley, Tampa Jesuit
1995 – John Carpenter, Lakeland Santa Fe
1996 – Rich Hoffman, Miami Westminster
1997 – John Crumbley, Tampa Jesuit
1998 – Howard May, Jacksonville Terry Parker
1999 – Scott Benedict, Wellington
2000 – Bob West, Jacksonville Bishop Kenny
2001 – Fred Burnside, Miami Southridge
2002 – Fred Burnside, Miami Southridge
2003 – John Crumbley, Tampa Jesuit
2004 – Pat McQuaid, Davie Nova
2005 – Ralph Henriquez, Key West
2006 – Scott Benedict, Palm Beach Central
2007 – Dave Wheeler, Orlando Bishop Moore
2008 – Tom Hilbert, Dunedin
2009 – Rick Turner, Naples
2010 – Charlie Warner, Pace
2011 – Landy Faedo, Tampa Alonso
2012 – Johnny Goodrich, Port Orange Spruce Creek
2013 – Richard Labounty, Pensacola Catholic
2014 – Fred Burnside, South Dade
2015 – Craig Faulkner, Venice
2016—Todd Fitz-Gerald, Douglas
2017—Greg Olsen, Calvary Christian
2018 – Troy Cameron, St. Thomas Aquinas