Winter Springs' Mark Huaman Named 2019 Softball Coach of the Year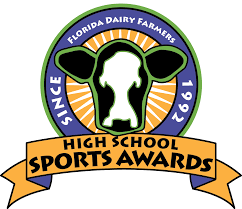 GAINESVILLE (June 14) – Mark Huaman of Winter Springs High School has been named the Florida Dairy Farmers 2019 Softball Coach of the Year following a final round of voting by a statewide panel of high school softball coaches and media representatives.
Huaman led his squad to a 31-0 record and the school's first state title by defeating No. 1 nationally-ranked and unbeaten Lakewood Ranch in the state championship game. Winter Springs finished the season ranked No. 3 nationally. In 20 years as head coach, Huaman has an overall record of 394-160 with a state runnerup finish in 2011.
Huaman, who previously was selected as the Class 8A COY, won the overall award with 11 of the 19 first-place votes and 148 points, to finish ahead of Class 6A COY Joe Sinness of Sebring, who had two first-place votes and 82 points. Class 1A COY Todd Bryant of Trenton (68) finished third, followed in order by Class 5A COY Mark Montimurro of Coral Springs Charter (49), Class 9A COY Joe DellaRocca of Park Vista (45), Class 7A COY John Bridges of Lake Region (32), Class 4A COY J.R. Borden of Jacksonville Trinity Christian Academy (27), Class 2A COY Diane Stephenson of Academy at the Lakes (17) and Class 3A COY Bill Hoopes of Admiral Farragut (10). All nine finalists led their teams to state titles.
The Florida Dairy Farmers High School Sports Awards program exemplifies Florida Dairy Farmers' commitment to the state's youth. This is the 27th year of these unique awards as we honor the state's top athletes and coaches in all 30 FHSAA sanctioned and recognized sports. The program also emphasizes to young people the importance of keeping dairy products a primary part of their diet in their overall nutrition plan.
2019 FINAL VOTING RESULTS: (Points awarded on a 10-7-5 basis) – Area winners in bold
Coach Total Points 1st-place votes
Mark Huaman, Winter Springs 148 11
Joe Sinness, Sebring 82 2
Todd Bryant, Trenton 68 2
Mark Montimurro, Coral Springs Charter 49 1
Joe DellaRocca, Park Vista 45 1
John Bridges, Lake Region 32 1
J.R. Borden, Trinity Christian 27 1
Diane Stephenson, Academy at the Lakes 17 0
Bill Hoopes, Admiral Farragut 10 0
Past Softball Coaches of the Year:
1993 – Jean King, Niceville (Slow Pitch)
Marilyn Bevetta, Ridgewood (Fast Pitch)
1994 – Robert Iamurri, Naples
1995 – Leslie Black, Cardinal Mooney
1996 – Robert Iamurri, Naples
1997 – Mike Clamon, Bloomingdale
1998 – Kathy Finnucan, Trinity Prep
1999 – Bryan Baucom, St. Thomas Aquinas
2000 – Kathy Finnucan, Trinity Prep
2001 – Mark Schusterman, Gulliver Preparatory
2002 – Glenn Rutenbar, Bartow
2003 – Becker Downie, Miami Palmetto
2004 – Glenn Rutenbar, Bartow
2005 – Chuck Poetter, Palm Harbor University
2006 – Glenn Rutenbar, Bartow
2007 – Kathy Finnucan, Trinity Prep
2008 – Coy Adkins, Wewahitchka
2009 – Kevin Fagan, Dunnellon
2010 – Kevin Fagan, Dunnellon
2011 – Danny Hensley, Niceville
2012 – Mark Schusterman, Gulliver Preparatory
2013 – Bryan Baucom, St. Thomas Aquinas
2014 – Amanda Schuerman, Bloomingdale
2015 – Melinda Wyatt, Tate
2016 – Todd LaNeave, West Orange
2017 – Christina Thompson, Orange Park Oakleaf
2018 – Mark Montimurro, Coral Springs Charter