Academy at the Lakes Standout Lexi Kilfoyl Repeats as Miss Softball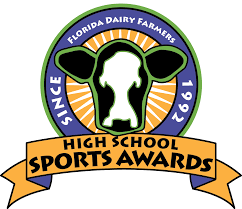 GAINESVILLE (June 14) – Senior pitcher Lexi Kilfoyl of Academy at the Lakes has been named the Florida Dairy Farmers 2019 Miss Softball following a final round of voting by a statewide panel of high school softball coaches and media representatives.
Kilfoyl, who won the state's top softball award in 2018, becomes only the second athlete to repeat as Miss Softball, joining Kelsi Dunne of Spruce Creek (2006-07). Kilfoyl led her squad to its second straight Class 2A state title with a 12-1 record, posting an 0.48 ERA while striking out 134 batters in 73 innings pitched. She also had a .562 batting average with 12 home runs and 37 runs batted in. She has signed to play college softball at the University of Alabama.
Kilfoyl, who was previously selected the Class 2A Player of the Year, tallied 125 points and garnered seven of the 19 first-place votes to finish ahead of Class 8A POY Kaley Mudge of Winter Springs, who had four first-place votes and 83 points. Finishing in third was Class 6A POY Maci Barnhart of Sebring (63), followed by Class 1A POY Darian Ingram of Trenton (51), Class 5A POY Lindsey Garcia of Coral Springs Charter (47) and Class 7A POY Vivian Ponn of Fort Myers (44). Rounding out the voting were Class 9A POY Tyrina Jones of Park Vista (35), Class 4A POY Chloe Nadler of American Heritage (22) and Class 3A POY Kaley Sarasty of Faith Christian (17).
The Florida Dairy Farmers High School Sports Awards program exemplifies Florida Dairy Farmers' commitment to the state's youth. This is the 27th year of these unique awards as we honor the state's top athletes and coaches in all 30 FHSAA sanctioned and recognized sports. The program also emphasizes to young people the importance of keeping dairy products a primary part of their diet in their overall nutrition plan.
2019 FINAL VOTING RESULTS: (Points awarded on a 10-7-5 basis) – Area winners in bold
Player Total Points 1st-place votes
Lexi Kilfoyl, Academy at the Lakes 125 7
Kaley Mudge, Winter Springs 83 4
Maci Barnhart, Sebring 63 2
Darian Ingram, Trenton 51 2
Lindsey Garcia, Coral Springs Charter 47 2
Vivian Ponn, Fort Myers 44 1
Tyrina Jones, Park Vista 35 0
Chloe Nadler, American Heritage 22 1
Kaley Sarasty, Faith Christian 17 0
Past Miss Softball Winners:
1993 – Jodi Hughes, Palmetto (Fast Pitch)
Mary Babb, Barron Collier (Slow Pitch)
1994 – Jean Bonnici, Naples
1995 – Monica Triner, East Bay
1996 – Michelle Moschel, Naples
1997 – Kellie Wilkerson, Jacksonville Mandarin
1998 – Jennifer Gladding, Martin County
1999 – Jennifer Joiner, Bell
2000 – Claire Sua, St. Thomas Aquinas
2001 – Julie Henneke, Sickles
2002 – Erin Horn, Tallahassee Leon
2003 – Stacey Stevens, Gainesville Buchholz
2004 – Allison Kime, Valrico Bloomingdale
2005 – Dani Hofer, Palm Harbor University
2006 – Kelsi Dunne, Port Orange Spruce Creek
2007 – Kelsi Dunne, Port Orange Spruce Creek
2008 – Kelly Saco, Miami Palmetto
2009 – Erin Schuppert, Neptune Beach Fletcher
2010 – Kasey Fagan, Dunnellon
2011 – Emily Sanders, Bartow
2012 – Shelby Turnier, Palm Beach Gardens
2013 – Stephanie Texeira, Gulliver Preparatory School
2014 – Korina Rosario, West Florida
2015 – Morgan White, Ocala Forest
2016—Lauren Mathis, West Orange
2017 – Ally Muraskin, Coral Springs Charter
2018 – Lexi Kilfoyl, Academy at the Lakes