Football: Conquerors defeat Gainesville in Spring Exhibition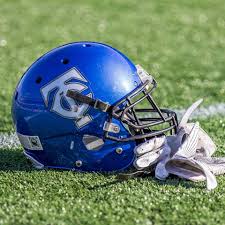 By Raymond Bureau
After a terrific 13-1 season in 2018, the Trinity Christian Academy Conquerors are ready to make even more noise in the coming 2019 season.
The Conquerors will play a brutal schedule, and that plethora of tough competition began Thursday night when the new, younger Conquerors faced the Purple Hurricanes of Class 6A Gainesville High School in the annual spring game.
The teams traded touchdowns in the game's final two minutes, and Gainesville came out on top, 17-13.
Gainesville quarterback Rod Williams rushed in from nine yards out with 19 seconds left to play to give the Hurricanes the lead. Alex Hood converted his second extra point of the night to make the score 17-13, meaning the Conquerors would have to go 75 yards from scrimmage without a time out to pull out the win.
Williams led the Hurricanes down the field from their own 25 and eventually hit receiver Alex Brown to give Gainesville a first down at the Trinity 15 before finishing the drive with his own touchdown run.
Trinity rising sophomore Daniel Plummer hit rising freshman Treayuan Webb, and Webb reached midfield with six seconds left. Webb then rushed to the right side but was brought down near the 40 as time expired.
For more, click here.