Sonic Drive-In Player-of-the-Game for April 22 – Darian Ingram (Trenton)
The Sonic Drive-In Player-of-the-Game for Monday, April 22, is Darian Ingram of the Trenton softball team.
Ingram, a sophomore and FAU commit, pitched a complete-game two-hit shutout with 14 strikeouts and Trenton pushed a run across in the bottom of the 8th to edge Gainesville, 1-0, on Senior Night. She allowed only an infield single to sophomore Ayanna Woodard in the first inning and a single by sophomore Summer Palmer leading off the sixth.
Gainesville only advanced a runner past first base once, and that came in the sixth, but Ingram snuffed out the Hurricanes' threat. Ingram, who entered the game with a 0.54 ERA, walked two and hit a batter and had at least one strikeout in every inning, striking out the side in the third and eighth innings.
"She was phenomenal," said Trenton coach Todd Bryant. "She was having trouble hitting her spots and that was bothering her. She is only a sophomore.  But she made some adjustments and look what she did.  Fourteen strikeouts, that's a lot."
Trenton tallied the winning run in the 8th due to three Gainesville errors.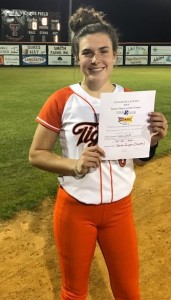 Junior Emily Barras, a Mercer University commit, led off the inning reaching first after Gainesville first baseman Natasha Fox dropped a throw to first on a strikeout. Senior Grace Guthrie, a Santa Fe College signee, reached on a throwing error by Hurricanes' pitcher Alissa Humphrey, moving Barras to second.
After Shalyn Parrish popped up a bunt to the catcher for the first out, junior Hallie Bryant, a USF commit, singled to left field but Barras had to hold at third base and was nearly thrown out.
Then with the bases loaded, senior Taniah Bowers, a Santa Fe College signee, tried a squeeze bunt and Humphrey made the throw to catch Brianna Boggs at home for the apparent force out, but Boggs dropped the ball and Trenton had the win.
Humphrey, a JU commit, had quite a game in the circle in her own right for Gainesville, allowing only two hits and an unearned run with nine K's, but picked up a tough-luck loss and is now 16-4 on the season.
"Alissa Humphrey is a great pitcher," said Bryant.  "She struck out 16 against us last time, but this time we only struck out nine times.  We've gotten better."
Trenton, the top-ranked team in 1A in the Miracle Sports state softball poll and also ranked #1 in The Prep Zone Power Poll regional rankings, remains undefeated at 20-0 and finishes a season sweep of Gainesville. The Tigers won at GHS 2-1 on March 1.
"We just fought to the end and then did what had to be done," said Ingram.  "They're such a good team.  It means a lot (to beat them twice)."
Gainesville is now 16-7 and finishes its regular season for Senior Night on Thursday at home against Union County (Lake Butler). The Hurricanes will be the #1 seed in the District 4-7A tournament and will host Vanguard (Ocala) in the district semis on Tuesday, April 30.
Trenton will host the District 7-1A tournament next week. Last year's state runners-up are focused on just one thing now.
"May 21st," said Bryant, who noted the start day of the Class 1A Final Four in Vero Beach. "That's all that matters.  Used to, we didn't talk about it, but we've been talking about it."
Every game The Prep Zone will recognize a Player-of-the-Game. The recipient receives a $10 gift certificate courtesy of Sonic Drive-In of Gainesville & Ocala.