Sonic Drive-In Player-of-the-Game for April 5 – Mandy Bernstein (Dunnellon)
The Sonic Drive-In Player-of-the-Game for Friday, April 5, is Mandy Bernstein of the Dunnellon softball team.
In a match-up of Class 6A top 10 teams, the visiting Tigers defeated Belleview, 6-5, to sweep the 2-game series.
Bernstein went 1-for-4 in the game, but the senior delivered what was ultimately the biggest hit.  Her RBI double in the 6th inning drove in Liberty University signee Glory Thompson with the game-winning run.
Just about everyone in the line-up contributed for Dunnellon (13-3), which is ranked 4th in the state in Class 6A.  Eight of the nine batters reached base at lease once.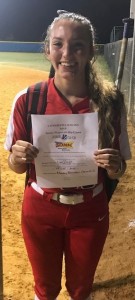 Senior Maddie Gibbs finished 2-for-4 with two runs scored, senior Malika Lander added two hits and was also hit by a pitch with the bases loaded, and Virginia Tech commit Cameron Fagan reached base three times and scored twice.
Belleview (14-4), which is ranked 9th in 6A, rallied for four runs in the bottom of the sixth, highlighted by a 2-run homerun by freshman Savana Shelor to make it a 1-run game. However, senior Lauren Ford struck out Shelor with the tying run on base in the bottom of the 7th to end the game.
Both teams have district games coming up on Tuesday night.
Belleview will travel to Lake Weir (Ocala) for a 6A-District 5 game, while Dunnellon will play at Citrus (Inverness) for a 6A-District 6 contest.
Every game The Prep Zone will recognize a Player-of-the-Game. The recipient receives a $10 gift certificate courtesy of Sonic Drive-In of Gainesville & Ocala.