Nease Standout Camille Hobby Named 2019 Miss Basketball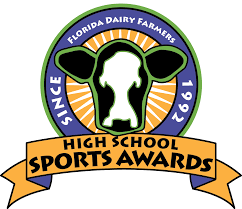 GAINESVILLE (March 22) – Senior Camille Hobby of Nease High School in Ponte Vedra has been named the 2019 Florida Dairy Farmers Miss Basketball following a final round of voting by a statewide panel of high school coaches and media representatives.
Hobby, a 6-3 center who has signed with North Carolina State University, averaged 18.0 points, 11.0 rebounds, 2.2 blocks and 2.0 steals per game in leading Nease to a 30-2 record and a state runnerup finish.
Hobby, who was earlier named the Class 7A player-of-the-year, received seven of the 19 first-place votes and 122 points to finish ahead of Class 4A POY and Vanderbilt signee Koi Love of Miami Country Day (107) and Class 9A POY Fujika Nimmo of Haines City (80).
Class 6A POY Paris Sharpe of Plantation American Heritage finished fourth (72), with Class 8A POY Erin Turral of Lincoln (51) in fifth place. Rounding out the voting in order were Class 5A POY Sydney James of Trinity Catholic (24), Class 1A POY Taniah Bowers of Trenton (21), Class 3A POY Caylan Jones of North Florida Christian (9) and Class 2A POY Triniti Snead of Impact Christian (8).
The Florida Dairy Farmers High School Sports Awards program exemplifies Florida Dairy Farmers' commitment to the state's youth. This is the 27th year of these unique awards as we honor the state's top athletes and coaches in all 30 FHSAA sanctioned and recognized sports. The program also emphasizes to young people the importance of keeping dairy products a primary part of their diet in their overall nutrition plan. 
2019 FINAL VOTING RESULTS  (area winners in bold)
Player Total Points 1st-place Votes
Camille Hobby 122 7
Koi Love 107 5
Fujika Nimmo 80 3
Paris Sharpe 74 2
Erin Turral 51 1
Sydney James 24 1
Taniah Bowers 21 0
Caylan Jones 9 0
Triniti Snead 8 0
Past Miss Basketball Winners:
1993 – Sabrina Crump, Clearwater Countryside
1994 – Tracy Reid, Miami Central
1995 – LaTonya Washington, Paxton
1996 – LaTonya Washington, Paxton
1997 – LaToya Jordan, Pompano Beach Ely
1998 – Michelle Snow, Pensacola
1999 – Shinikki Whiting, Clearwater
2000 – Binky Martello, Jay
2001 – Natasha Morehead, Panama City Bay
2002 – Dorian Williams, Jacksonville Ribault
2003 – Erlana Larkins, The Benjamin School
2004 – Erlana Larkins, The Benjamin School
2005 – LaQwesha Gamble, Winter Haven
2006 – Steffi Sorensen, St. Johns Bartram Trail
2007 – Krystal Thomas, Orlando First Academy
2008 – Tiffany Hayes, Winter Haven
2009 – Ashley Jones, Winter Park Lake Howell
2010 – Krystal Saunders, South Broward
2011 – Danielle McCray, Trinity Christian Academy
2012 – Alexis Prince, Orlando Edgewater
2013 – Jessica Thomas, Gainesville Buchholz
2014 – Vionise Pierre-Louis, Grandview Preparatory
2015 – Beatrice Mompremier, Miami Senior
2016 – Nadia Fingall, Choctawhatchee
2017—Rennia Davis, Jacksonville Ribault
2018 – Destanni Henderson, Ft. Myers